Everyone at work knows Lucy. While none of them have actually met her yet, they know who she is. How could they not? My office is adorned with reminders of her, including a big framed photo of her with good friends like Bella and the late Brave Bear. There's also a newsclipping of Lucy and Bear that Stephanie Lucero was so kind to have made when they came up together last time. And I'm constantly noticing Lucinda hairs on my clothes at work, too. No one has said anything about these, but I'm sure they notice them.
But there's something more. There are email reminders. Like, say, when I go away from the office for several days during travel or holidays, I'll often send a holiday message along with a fitting photo of Lucy. For example, Thanksgiving might have her standing next to a turkey, Christmas with her bells on, Arbor Day by an old oak tree, etc. You get the idea.
And sometimes, when I send out spreadsheets or charts to my staff, they will see a photo of Lucinda in a special place on the document. Of course, they will have to hunt for her. I don't just jam a big picture of her in a column or row. But they'll notice something funny about the box and, when they hover over it with their mouse, POOF! Lucy appears with a cartoon balloon saying something like: "Nice job, Mark!" or "Way to go, Misti!"
I'm sure this was initially cause for some concern on the part of some. But over time, people have not only accepted this somewhat unusual practice but have actually embraced it. Indeed, in the rare instance that I forget to send out a Lucy shot prior to going away for a while, I'll get a message or two asking: "Where's the dog photo?"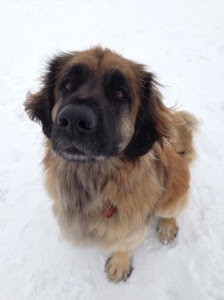 I try not to ever forget now.
And let me be perfectly honest. There are some who do not find it amusing at all. But these are the ones who need it most!
I recently hired a new employee on my team, and did not explain Lucy or anything at all about Leonbergers. He would learn in time. And so, during the NFL playoff games, I fired off a shot of Lucy making fun of the New England Patriots (eating my words now). Most people got a kick out of it (except my boss, who is from Boston…uh oh, my days may be numbered).
The new employee, not knowing who in the world Lucy was, wrote something kinda funny to the entire group like "If that is the same dog from the beer commercials, he better not quit his day job."
Hahahahahaha.
Well, I'm not sure what beer commercials he was referring to but I do know Lucy is not a "he." Additionally, she has no "day job" as she is not interested in working. I have no doubt that she would make an excellent water rescue dog and a very good tracker. But for the moment, Lucinda has simply told me these things are not in the cards.
There was silence on the day job comment in the email world for days and I simply forgot about it. But one day, a long-term employee told me that after the new guy wrote that, a few of them spoke to him and educated him on Leonberger protocol. And I really like the way one guy put it the most. Said he to the newb: "You don't understand, Lucy is NOT a dog."
Well she is, in fact, a dog. But very well said!